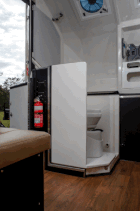 FEATURE FOCUS
NEW KIMBERLEY KARAVAN
SWING AWAY TOILET


CUSTOMER FAQs

Does it move freely?
Yes – a simple barrel bolt holds this securely in situ for travel or out of the way whilst showering.
Does it add any extra weight?
Yes – the swing away toilet has added approx. 7 kgs of weight to the ATM.
Is it secure to sit on the toilet?
Yes – we have tested the rigidity and design of the toilet ledge to 170kgs.
Can you still totally remove the Composting Toilet for cleaning?
Yes definitely.
Is the Wet Area still truly wet?
Most definitely…. However, remember water is a precious commodity out bush so no 20min hot showers.
Can you still use the door when the Swing Away toilet is open?
No – the toilet door totally blocks the entrance way but we figured it would be OK for a 10min shower.
Do you still need the shower curtain?
Yes.
Does the shower water still drain into the grey water tank?
Yes.
Can you have the swing away toilet with a Chemical Toilet?
Yes – however this is not how we planned it so may be a small incremental cost.
You have done a Great Job and it looks great!
Thanks to the whole team for the innovation, persistence and execution of the project.